Welcome to Britannia Models, your British model trains destination!
Click on the tabs and sub-tabs to go directly to our various product listings!
We are here Tuesday - Saturday, 10:00 am to 5:00 pm pacific time while our online order system and our fax, email and voicemail facilities, are of course available 24/7.
If we can't take your call directly, our customer service targets are to answer email and voicemail, as well as to confirm stock situations for online orders, within a 24 hour window.
Phone: 604-538-2698
Fax: 604-538-2459
Email: info@britanniamodels.com
---
Train shows in 2015
We expect to be attending the following shows during 2015:
Western Rails 2015: 33rd Annual Railroadiana Show: Sunday, March 15th, 2015, 9:00 am to 4:00 pm Cameron Rec Centre, Cameron St, Burnaby, B.C. (Across from Lougheed Town Centre). Presented by the West Coast Railway Association.
31st Annual Vancouver Island Spring Model Railroad Show 2015: Sunday, April 26th, 2015, 10:00 am to 4:00 pm Beban Park Recreation Centre, 2300 Bowen Road, Nanaimo, B.C.
Victoria Model Show 2015: Sunday, May 24th, 2015, 10:00 am to 4:00 pm West Shore Curling Rink at Juan de Fuca Recreation Centre, 1767 Island Highway, Colwood, B.C.
(Please note that due to a clash of this new date for the Victoria show, with other activities, we will not be able to attend this show in 2015. We will be back in 2016. We hope to see many of our Victoria area customers at the Nanaimo show in April).
TRAINS 2015: Probably November but dates, times and location to be confirmed. More information here: http://www.bctrains.org
---

Enjoy your visit to Britannia Models and try our friendly service. You can check out our history and a little bit more about us, here.
Thank you for stopping by!
---
Latest News:
February 19th, 2015 - Due to further complications with the manifest for our goods, the shipment only cleared customs today and will be delivered to us tomorrow, Feb 20th.
February 13th, 2015 - We have an airfreight shipment en route to us with latest models from Hornby, Ace Trains, Dapol and Metcalfe. Due to some port strikes in the US and impending rail strikes in Canada with both CP and CN, aircargo space to North America from the UK, is difficult to obtain and as a result our shipment, which we expected a week ago, will not be with us until Feb 17 or 18. If you are waiting for models expected here with this shipment, please be advised that we will contact you as soon as we have the shipment here, unpacked and inventoried. We apologize for this delay which is out of our control.
December 10th, 2014 - Seasons of Steam 2015 calendar is now in stock. 12 pictures of steam trains from the UK preservation scene. C$14.95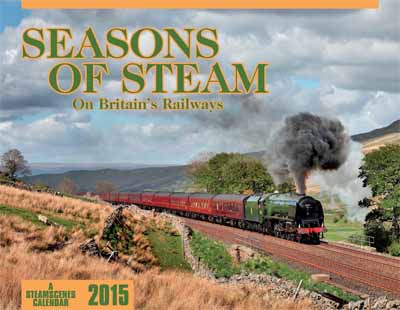 November 26th, 2014 - We now have new stock of all the locos in the Thomas range. Prices are unfortunately up, but if you are looking for the Thomas & Friends locos in HO gauge by Bachmann, we have all of the models in stock. Check them out here.
November 15th, 2014 - We have today updated our OO and N scale road vehicle (diecast) listings. We have a very good, in stock, selection of cars, buses and trucks to help you enhance your layouts. You can see them all here.