Welcome to Britannia Models
Your Online British & Canadian Model Train Destination!
If you are interested in Canadian or British model trains you have come to the right place.
We carry trains, diecast vehicles and accessories from companies such as Hornby, Bachmann Branchline, DJ Models, Dapol, Oxford Rail, Oxford Diecast, Corgi, Graham Farish, Metcalfe, Peco, Ratio, Wills and more.
We also carry Canadian HO trains from companies such as Rapido, Bowser, Atlas, InterMountain and more.
Click on the tabs and sub-tabs to go directly to our various product listings!
Phone: 604-465-5074
Email: info@britanniamodels.com
Office Hours: Tuesday - Saturday 10:00am to 5:00pm PST
---
Show Schedule
Mt Cheam Lions Club Model Railway & Hobby Show 2018 - Oct 13th & 14th, 2018 - Heritage Park, 44140 Luckakuck Way, Chilliwack, BC (Sat 9:00 am to 5:00 pm; Sun 10:00 am to 4:00 pm)
Vancouver Train Expo - Nov 10th & 11th, 2018 - PNE Forum, 2901 East Hastings, Vancouver, BC (Sat 10:00 am to 6:00 pm; Sun 10:00 am to 5:00 pm)
Supertrain 2019 - Apr 13th & 14th, 2019 - 7555 Falconridge Blvd NE, Calgary, Alberta (Sat & Sun 9:00 am to 5:00 pm)
---
Latest News
July 21, 2018

The newest addition to the Hornby 2018 range is R3660 Class 56 #56303 in Devon & Cornwall Railways green. This suprise mid summer announcement is sure to be popular with modern image modellers and we are now accepting pre-orders here at Britannia Models for this new locomotive. The Britannia price for the R3660 is $194.99 Canadian.
.........................................................................................................................................................
July 18, 2018
Our most recent Hornby shipment included some long awaited models and a surprise previously sold out locomotive!

We received a new shipment from Hornby of the R3509TTS BR Class Princess Coronation 4-6-2 #46235 'City of Birmingham' (Lined Green - Late Crest) with TTS Sound. The R3509TTS was originally sold out on pre-orders but a small restock became available from Hornby so we have some of these in stock right now for $299.99.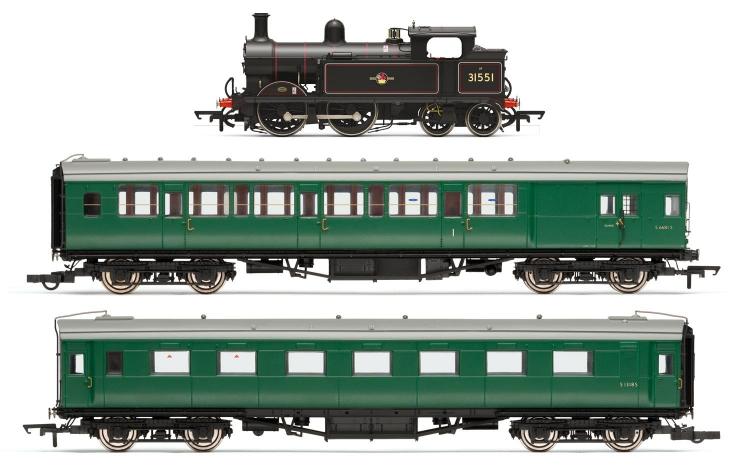 The R3512 BR H Class 0-4-4T #31551 (Lined Black - Late Crest) Pull-Push Train Pack - Limited Edition is now also in stock for $249.99. This set is perfect for the modeller looking for a good Southern Region branchline train.

The first 2018 announced steam locomotive has arrived in the form of R3617 BR Rebuilt Merchant Navy 4-6-2 #35030 'Elder Dempster Lines' (Lined Green - Late Crest) $204.99.

The 63' Hawksworth coaches have returned to the Hornby line up in the very attractive BR Crimson & Cream livery. We have all five versions available for $64.99 each. R4404B Passenger Brake #W829W, R4405B Corridor 3rd Class #W2267W, R4406B Corridor Brake 3rd Class #W2251W, R4407B Corridor Composite #W7803W, R4408B Brake Composite #W7858W and R4493B Corridor 1st Class #W8119W.

The R4859 Virgin Mk3 DVT Driving Van Trailer #82141 (Virgin Trains - Red & Black) is in stock for $89.99. This DVT will go very nicely with the Hornby Mk3 coaches due later this year and would look great working alongside the Hornby Class 87 #87019 'Sir Winston Churchill' in Virgin Trains which can still be pre-ordered for only $207.99!
As well, R4534E BR (ex-Maunsell) Pull-Push #Set 601 (Green) Coach Pack is also in stock for $109.99 plus a restock on some Pullman coaches. R4739 Pullman Parlour 3rd Class 'Car No. 34', R4739 Pullman 3rd Class Parlour 'Car No.34', R4740 Pullman 1st Class Kitchen 'Argus', R4741 Pullman 3rd Class Kitchen 'Car No. 58' and R4742 Pullman 3rd Class Brake 'Car No. 162' for $79.99 each.


Our latest Hornby wagon arrivals include R6838 BR Coke Wagon 20 Ton #B447479 (Grey) for $29.99, R6845 YGB 'Seacow' Ballast Wagon #DB980057 (Mainline Blue) for $39.99, R6858 SECR 3 Plank Wagon #10756 for $19.99 and R6880 2018 Hornby HEA Wagon for $24.99. For those who have been collecting the Hornby annual wagon you won't want to miss out on this years version!

The most recent Hornby TTS Sound Decoders to arrive are the R8116 Steam - S15 Class and R8119 Diesel - Class 40 for $54.99 each.

Moving onto other product lines, a shipment from Dapol arrived with this years batch of OO Class 68 diesel locomotives. The Scotrail version is now sold out here at Britannia Models but we have a few of the very attractive Direct Rail Services ones in the form of 4D-022-008 Class 68 #68003 'Astute' (DRS - Compass) and 4D-022-010 Class 68 #68008 'Avenger' (DRS - Compass). The third paint scheme available on this batch is the 4D-022-011 Class 68 #68010 'Oxford Flier' in Chiltern livery. The Dapol Class 68 models are only $199.99 each.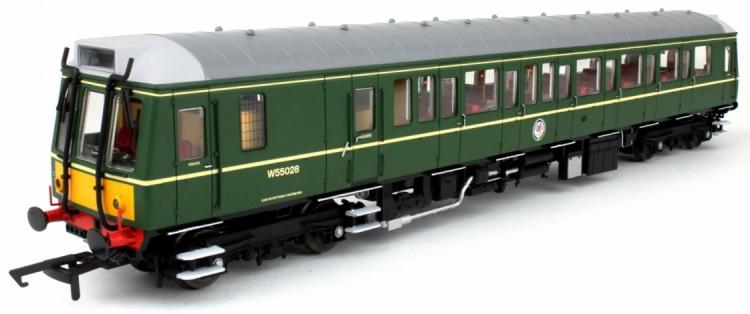 Dapol's OO gauge release of Class 121 Bubble Car models have arrived here with three versions in stock. 4D-009-001 Class 121 Bubble Car #W55020 (BR Green - Whiskers), 4D-009-002 Class 121 Bubble Car #W55028 (BR Green - SYP) and 4D-009-003 Class 121 Bubble Car #W55029 (BR Blue & Grey). These can be ordered now for $189.99 each.
As well, we have two GWR Streamlined Railcar's in stock. 4D-011-002 Streamlined Railcar #W10 (BR Chocolate and Cream) and 4D-011-004 Streamlined Railcar #8 (GWR Chocolate & Cream - Twin Cities Crest) for $189.99 each.
For those who like O gauge we have the Dapol 3F Jinty in stock in the form of 7S-026-003 S&D 3F Jinty 0-6-0T #23 (Somerset & Dorset Joint Railway - Blue) for only $289.99!

We've also updated the Dapol OO Pre-Order section to include Dapol's announcements for a new batch of Class 73's and Class 52 Westerns along with updated pictures of the Class 59, Class 29 & Class 21 models.
For our Canadian HO modellers, we have one(!) remaining Rapido Trains GMD SW1200RS in stock. 26526 CP Rail #8115 (8" Stripes - Hood Multimark) with DCC Sound for $289.99.

Rapido Trains' newest announcement is for the MLW RS-18 in HO scale.This first run is all high nose units and covers multiple varients from CP & CN. Paint schemes covered include CN Green & Gold, CN Black with large Noodle logo, CN Stripes, CP Maroon & Grey with both Block & Script lettering, CP large Multimark with 5" & 8" stripes and with or without ditch lights.

Here at Britannia Models we are offering a pre-order special price for these models! Pre-orders must be placed before the end of day on October 15th, 2018.
DC Silent - Britannia Special Pre-Order Price - $214.99 MSRP - $249.95
DCC Sound - Britannia Special Pre-Order Price - $304.99 MSRP - $359.95

Also announced with the MLW RS-18 was the CN Rebuilt RS-18 for use with CN's Tempo passenger coaches. These locomotives featured an extended short hood to house the HEP engine. Two units later lost the HEP engine but retained the extended nose and both versions are catered for.

To go with all these Rebuilt RS-18's, Rapido is also producing the Tempo coaches! You can buy a train pack that comes with a Rebuilt RS-18, one Tempo Coach, one Tempo Club Car & one Tempo Cafe-Bar-Lounge Car. These sets are available in CN & VIA and you can only get the HEP fitted Rebuilt RS-18, Club & Bar cars in the set so you won't want to miss this! Additional standard coaches will be sold seperately.

We are also offering a special pre-order price on the Tempo train packs as well. Pre Orders must be placed prior to days end on October 15th, 2018.
DC Silent - Britannia Special Pre-Order Price - $529.99 MSRP - $599.95
DCC Sound - Britannia Special Pre-Order Price - $624.99 MSRP - $699.95

Those of you who like American Alco diesels will like Rapido's other announcement, the Alco RS-11!
Available in Conrail Blue, Conrail/Penn Central Black patch, New Haven, Pennsylvania Railroad, Penn Central and Southern Pacific these models are available to pre-order here from Britannia Models and like the RS-18's we are offering a special pre-order price! Orders must be placed prior to end of day on October 15th, 2018.
DC Silent - Britannia Special Pre-Order Price - $214.99 MSRP - $249.95
DCC Sound - Britannia Special Pre-Order Price - $304.99 MSRP - $359.95

.........................................................................................................................................................
---